Agility Classes – Six Levels of Training 

Foundation through Advanced/Competition
Video of Agility Training Runs
Training classes on Tuesday Nights:

6:30 pm: Agility Foundations
6:30 pm: Agility 1 (Beginners)
6:30 pm: Agility 2 (Advanced Beginners)
7:30 pm: Agility 3 (Intermediate)
8:30 pm: Agility 4 (Advanced/Competition)

Class Fee: $130.00 per 8 week session.

*Please note that any students that have not trained in Agility with our club before will have to be evaluated prior to registering for a class. This includes owner/dog teams wishing to start in beginner. Please call 1-708-453-PAWS today to setup an evaluation.
Lyons offers AKC rules and equipment agility training starting with developing foundation skills to advanced competition levels.
These classes, for both purebred dogs and mixed breed dogs, consist of eight ("8") weekly sessions. Class registration is required.
Agility Foundations 1 and 2
These classes are designed to give dogs and handlers a solid foundation in the basic behaviors that lead eventually to successful performance on an agility course. Through the use of toys, treats, targeting, and shaping, dogs will learn to work close to and at a distance from the handler; to move around, through, under and over a variety of items and surfaces; and to work confidently and happily. Dogs will work one at a time when off leash (in an enclosed area). Handlers must bring a crate to class each week so dogs will be safe and handlers will not be distracted when listening to instructors or waiting their turn. Homework suggestions will be prepared for each week.
LTDTC Agility Class Descriptions
 Foundations 1 Class Description
PREREQUISITE:  LTDTC Basic 2 Class or Evaluation
Open to dogs at least 6 months of age that have had no agility training, but have completed basic 
obedience training with fairly consistent response to heel, sit, down, stay, and come
Review basic skills (come, sit, down, stay)
Develop a fast and reliable recall to side (left and right)
Play with handler (toys, tug)
Develop attention to handler with shaping exercises that self-teach a dog to focus
Teach the dog to move with handler on left and right 
Use rocker and wobble boards to introduce dogs to equipment that moves (pre-teeter)
Encourage dog to drive away from handler
Introduce wrapping around a cone or jump upright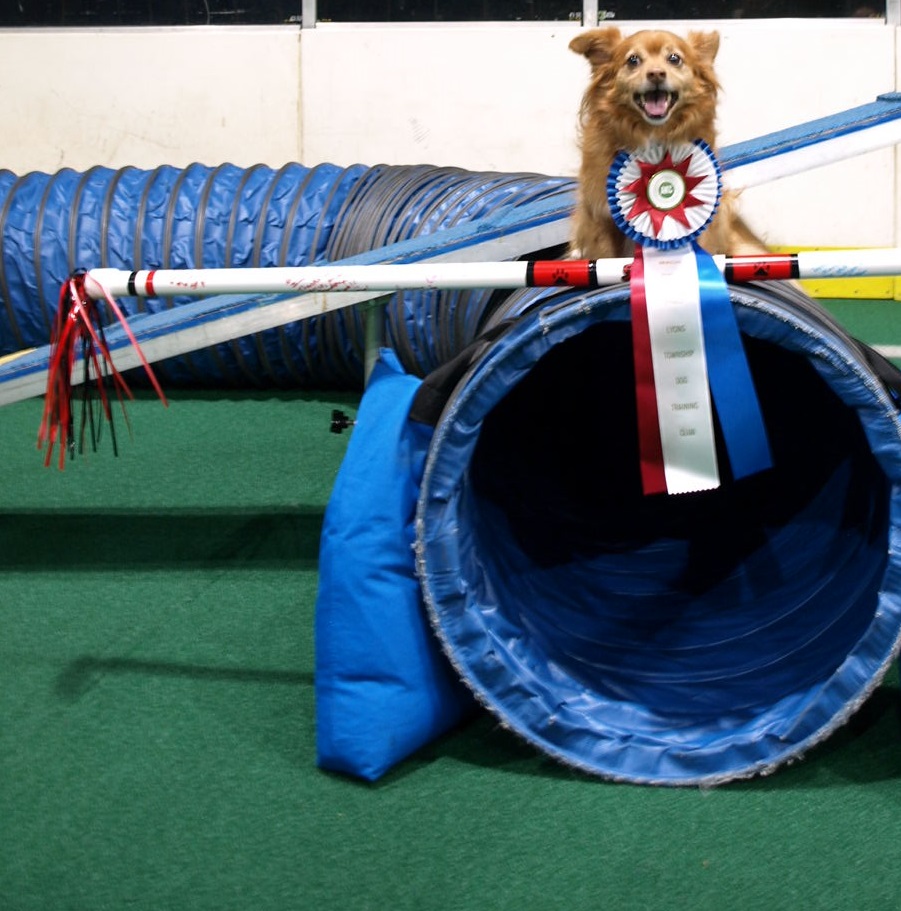 Foundations 2 Class Description
PREREQUISITE:  LTDTC Foundations 1 Class or Evaluation
Open to dogs that have satisfactorily completed the Foundations 1 Class
Continue skills introduced in Foundations 1
Circle work
Introduce start-line stay
Introduce low non-spread jumps, tunnel and table
Introduce 2 x 2 weaves (one set only)
Front and rear crosses on the flat and over a low jump 
Perform sequences of 2 – 3 obstacles
Agility 1: Beginners Class Description
Prerequisite:  LTDTC Foundations 2 Class or Evaluation
Open to dogs that have satisfactorily completed the Foundations 2 class
Introduce dogs to low obstacles using 2 on 2 off and targeting
Continue skills on low non-spread jumps, tunnel and table
Continue working on basic turns and crosses on the flat and with obstacles 
Perform sequences of 2-5 obstacles
Execute front, rear, and blind crosses in a sequence
Continue 2 x 2 weave pole training

Agility 2: Advanced Beginners Class Description     
Prerequisite:  

Recommendation

 by LTDTC Agility 1 Instructor or Evaluation
Open to dogs at least one year of age that have successfully completed the Agility 1 class (by instructor evaluation) or have had introductory agility experience.
Dogs and handlers build on skills from Agility 1
Develop flexibility in the dog
Practice all agility obstacles at full height
Introduce and practice spread jumps
Continue 2 x 2 weave pole training
Perform sequences of 5-10 obstacles
Transition to 6 fixed weave poles   
Agility 3: Intermediate Class Description  
Open to dogs at least one year of age that have had introductory agility
experience or have successfully completed Agility 2 (by instructor evaluation)
Dogs must work reliably off lead.
Dogs must be able to successfully complete a sequence of 6 – 8 obstacles. Weave poles and teeter performance do not need to be mastered
Dogs and handlers build on skills from Agility 2
Transition to 12 weave poles
Work on basic obstacle performance 
Work on handling dog from a greater distance away
Practice dog skills for obstacle discrimination 
Refine handler skills – front, rear, blind crosses 
Teach elementary course strategy skills
Practice start-line and course distractions
Execute longer sequences (11-18 obstacles)
Practice running novice level courses

Agility 4: Advanced/Competition Class Description  
Dogs must have obtained one or more qualifying scores towards an agility title or have consent of instructor
Dogs must be able to successfully complete sequences of 16 – 18 obstacles
Dogs and handlers build on skills from Agility 3
Practice dog skills for jump combinations
Practice handler skills for proper footwork
Teach newer "European-style" handling skills
Practice advanced course strategy skills
Practice running open and excellent level courses