What is Rally?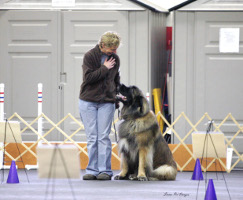 AKC Rally® is a new dog sport that is meant to be a stepping stone from the AKC Canine Good Citizen® program to the world of obedience or agility. Rally is designed to be fun for both dog and handler.
What makes Rally different than traditional AKC Obedience?  AKC Rally is a companion sport to AKC Obedience.  It too requires teamwork between dog and handler along with performance skills similar to obedience.  Rally provides and excellent introduction to AKC events for new dogs and handlers, and can provide a challenging opportunity for competitors in other events to stregthen their skills.  All dogs are eligible to compete in rally.
A rally course includes 10 to 20 stations, depending on the level. Unlike traditional AKC obedience classes, handlers are allowed to communicate and encourage their dog and perfect heeling position is not required.
What are the different levels of Rally?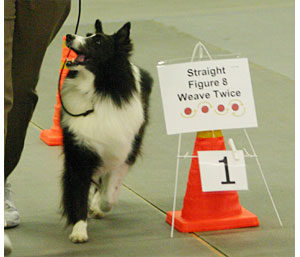 The three levels of competition in AKC Rally:
Novice
All exercises are performed with the dog on leash.
There are 10-15 stations no more than five stationary exercises.
The exercises performed vary from turning 360 degrees to changing paces during the course.
Exhibitors at this level may clap their hands and pat their legs through the course.
Advanced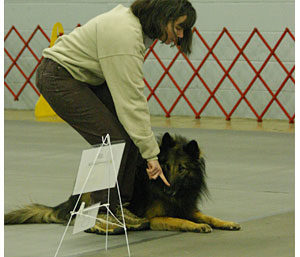 All exercises are performed off-leash. 
There are 12-17 stations with no more than seven stationary exercises. 
Exercises include a jump as well as calling your dog to the front of you instead of to a heel position.
Excellent
Exercises are performed off-leash except for the honor exercise.
There are 15-20 stations, with no more than 7 stationary exercises.
Handlers can use verbal but not physical encouragement. 
The Excellent-level exercises include backing up three steps, while the dog stays in the heel position and a moving stand, while the handler walks around the dog.